Google announce 'Mobile-friendly' label on mobile search results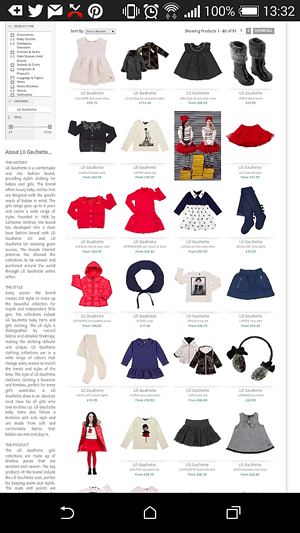 Google's mantra has always been its desire to provide the most relevant, informative & user-focused search results (serps).
And, in its many search ranking factors, user-experience has seen a growing importance as mobile search has been rising.
There is nothing more frustrating than tapping a search result on your mobile phone only to find yourself looking at a page where the text is too small and links unusable.
And, worse, having to scroll sideways to see all the page and zoom in to read any of the content.
This usually happens when the website is either not responsive or not optimised for viewing on your mobile phone.
Mobile-friendly Label
Google announced yesterday, on its Webmaster Central Blog, it is adding a "mobile-friendly" label to its search results.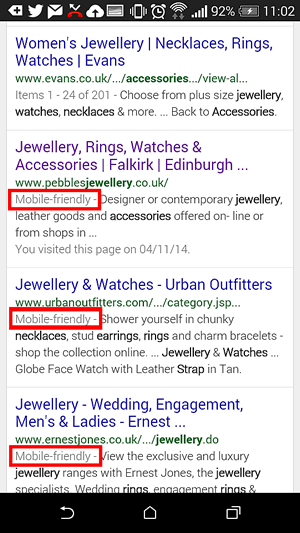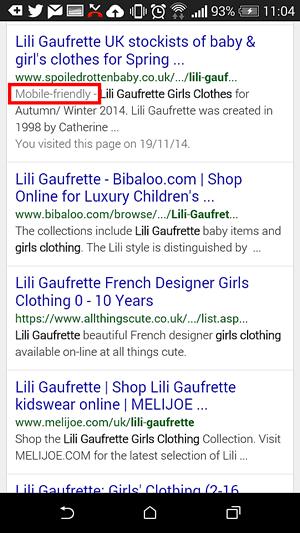 It is being rolled out globally over the next few weeks and designed to make it easier for searchers to find the information they are looking for.
Generally, when being rolled out it happens in the US first and the UK drags behind. But, this time around the UK is up there with the best of them!
Doing a mobile search for a few of our clients it's good to see them being labeled and highlighted as mobile-friendly.
Is your site 'Mobile-friendly'?
To be eligible for the 'mobile-friendly' label sites will have to meet certain criteria:-
Avoid software that is not supported on mobile devices eg Flash
Use text that is readable without zooming
Sizes content to the screen so users don't have to scroll horizontally or zoom
Have links far enough apart so that the correct one can be easily tapped
What impact will it have for your search ranking?
There are some interesting questions to consider for every site owner:-
Will sites labeled with 'Mobile-friendly' influence searchers behaviour?
Will it make a real difference and impact on clickthrough rates?
Most importantly, will it influence SERP ranking positions?
The last one is perhaps most important for website owners. If it's used as a ranking factor, and it may already be, we should expect to see more sites with the label ranking above others in search results.
With the increasing surge in mobile search, sites which are not responsive and optimised for mobile display will suffer.
This is very likely to be sooner than later as Google has already indicated that it prefers responsive site configurations.
Only time will tell and, of course, we will be able to monitor what impact it has on traffic by keeping a close eye on our analytics.
How to ensure your site meets the mobile-friendly criteria
You can check your pages with Google's Mobile-Friendly Test and read their updated documentation on Webmasters Mobile Guide.
The Mobile usability report in Google Webmaster Tools highlights major mobile usability issues across your entire site not just one page.
There is also a how-to guide for third-party software like WordPress, Joomla and other platforms. They will help you migrate your website, hosted on a CMS (content management system), to use a mobile-friendly & responsive template.
If you are not mobile-friendly you will be at a big disadvantage as more search is done on mobile devices.
So, check out your own site and if not mobile-friendly, there is no better time than now to make sure you don't miss out on mobile search.