Google the farmer attempts to address the problem of crappy content!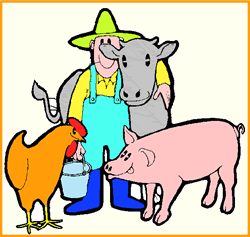 It's long been a bone of contention for legitimate search marketers that the search engine results pages (serps) are often cluttered with what appears to be links to sites which are mainly link, comparison or content farms rather than links to individual sites with real content relating to the search term.
Since Google first came on the scene, back in 1998, with a different approach to search engine results, focusing more on themed content, they have been battling the spammers on a daily basis and all those trying to game the system.
The content is part of the problem
Part of the problem, since then, is that content marketing has been regarded as an important component of search engine optimisation. Consequently, when considered such an important factor, the spammers and black hat SEO practitioners tend to focus on it to try and game the search results.
The problem for Google and the other search engines is that these pages can often outrank pages of greater value that provide more in depth, relevant and better content.
Google would like to reward these better quality sites in its latest major algorithm tweak and they will attempt to do so by punishing "content factories" or "content farms" as well as the more traditional spammer and scraper sites.
The Farmer Update
In what Search Engine Land's Danny Sullivan has labeled the "farmer" update, Google began rolling out a  significant algorithm change, on 24 February, that it expects will affect approximately 11.8% of its search queries.
The bottom line for any search engine, is they want to  provide the best, most relevant and useful information back to their customers  as fast as possible.  The overhaul is designed to lower the rankings of what Google deems "low-quality" sites.
This farmer update will effectively reduce rankings for these low-quality sites (sites offering little value for visitors, copy content from other sites or those that are just not very useful) and raise those for high-quality sites (sites with relevant, original content and information).
Google's long-term stated aim is to constantly try to improve their search results and finally appear to be going to address the problem of content farms that flood their search results with posts that appear to care more about SEO than content.
Google recently introduced a Personal Blocklist extension for Chrome giving users the ability to mark sites considered by then spammy but stated that the update did not rely on feedback from users using the extension .
The algorithmic change did, however, address 84% of the "top several dozen or so" most blocked domains from the Chrome extension which Google sees as confirmation that the update is indeed improving search quality.
Jill Whallen, of High Rankings Advisor, has been a recent critic of Google's serps, in a number of aspects, and recently posted a blog item: Some Farm Aid for the Afflicted: Google Farmer Update, in which she tried to identify some of the factors which might have contributed to the farmer update effects.
With any updates to the algorithm, changes are going to happen, and there are going to be winners and losers, not all of which will be justified, and although some 300+ sites have seen large losses in ranking positions there still appears to be a distance to go. The SISTRIX blog provided additional insight by posting the top 25 websites that, overnight, stopped showing up in Google for numerous keywords.
The update was rolled out first in the US and will be gradually implemented throughout the GoogleSphere over the next weeks.
So we, in the UK, should monitor our analytics although the majority of us will have little to be concerned about if we adopt and approach our SEO activities wearing the right colour of hat!
It's a start and hopefully, one that will see continued progress, but the jury is out at the moment and time will tell if any real improvements to the quality of search will result.
Watch your Google Analytics statistics and let us know if you see any upsets!