Yellow Pages – Even less walking for your fingers!
Last year, almost to the day, received my new copy of Yellow Pages for our local area. The new one just popped through the door (there was a time when it couldn't fit through the letterbox).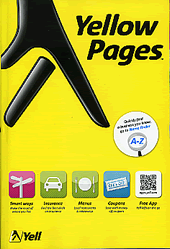 Posted last year entitled Is Yellow Pages still Good Value on it's new format and size promoted, on cover, as New look, New content, New handy size and what that actually meant in terms of the publication itself.
This year there is very little difference! It's the same format size but 2/3 the thickness. The trend seems to be continuing and it's getting smaller and smaller each year. How long can it survive?
Comparison between this and last year's Yellow Pages
Last year selected two sections at random and compared with previous years publication.
Both showed a reduction of 25% and 30% respectively in mixed format display ads. This year the trend has continued with approximately similar % changes, the only difference being they have switched round.
| | | |
| --- | --- | --- |
| Yellow Pages Category | December 2010 | December 2011 |
| Floor Cleaning & Treatment | 3 ads (down 25%) | 2 ads (down 33%) |
| Carpenters & Joiners | 55 ads (down 30%) | 42 ads (down 24%) |
Clearly there is a decline in the volume of display advertising and all the indicators seem to point to that trend continuing.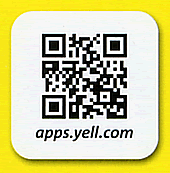 The only innovation, if it can be called that, is the introduction of a QR (quick response) code on front cover which if scanned will install and give access to the Yell mobile app.
Surprisingly, it is not promoted to any great extent and not obvious that if scanned will do anything at all. The only reference to what it is and how to use it is a small entry on the first page of the directory.
The future of YP directories
When was the last time you let your fingers do the walking? The last time was finding the categories for this post and before that, last year doing the same thing then!
Had it not popped through the letterbox would I have remembered I even had one from last year?
And, that's the problem, when I and probably you, want to find a local tradesman, the first option is to Google or Bing it!
Would be interesting to know whether the missing advertisers have been active elsewhere eg website, blogging, Google Places or even Adwords. All of which, if used appropriately can bring far more targeted business.
When did you last let your fingers do the walking?