1. 32.5%: The average traffic share the first Google organic search result gets. (Chitika)
SEO (search engine optimisation) is the primary means of achieving the number one spot in Google search results.
Not all searches will result in your site or a page on your site appearing in the top spot as there are many factors that influence the algorithm Google uses to decide on the ranking of each and every page in its index.
Understanding SEO and applying tried and tested techniques and technologies is still the only way to ensure each and every page of your website has an opportunity to be seen as the best page to show for any given search your potential customers make.
TakeAway:
Don't obsess about reaching number 1! Other spots also attract traffic and the higher you can rank the more you will get but the first objective is to target page 1 and take it from there!
2. 91.5%: The average traffic share generated by the sites listed on the first Google search results page. (Chitika)
Although your site might not be seen as the perfect answer to a search query to show in the top spot all is not lost.
With 91.5% of visitor traffic generated from page one of search results, appearing on the first page is still a highly desirable place to be. Only 8.5% will click through to the second page and even less will take the trouble to go any deeper into the results.
TakeAway:
If and when you are appearing on page one for a searched topic it is a confirmation that Google thinks your page is relevant enough to be shown. That's a good start but only the beginning! With a little effort and some keyword and competitor research, it should be possible to refine, add or restructure page content to give that extra boost higher up the page.

And, who knows, even to the top spot!
3. 1,890 words: The average content length of a Google first page result. (Backlinko)
More is not always better but the evidence speaks for itself! It's long been argued about the optimum & best length of content to satisfy Google's search bot when it gets round to your new page.
There might have been a time in the past when that was the primary concern but times change and recent algorithm updates confirm there's more to it than just size!
Google has always and repeatedly said that its main objective is relevancy to the search query entered and how well it is answered by the available pages in its index. Recent algorithm updates eg Rankbrain takes into consideration more than just the keywords and phrases that relate to the search term but broader criteria.
Just as Google uses Quality Score (QS) for Adwords to decide on ad display position it uses a Relevancy Score in a similar way to rank what pages are shown in what position.
Unfortunately, unlike QS for Adwords, Google doesn't provide a Relevancy Score but there is every possibility that similar criteria are used. CTR (clickthrough rate) and time on page/bounce rate are indicators of popularity, both of which are searcher related metrics.
TakeAway
Relevancy is the primary aspect to focus action on. Whereas the number of words on a page is no guarantee of a high rank it does provide the opportunity for a more in-depth coverage of the topic. It is far more likely to satisfy both Google and your visitor!

Traditional SEO factors are not to be ignored eg range of topic keywords/terms used appropriately throughout the content and, of course, a descriptive, enticing page/post title and meta description. These are still the first opportunities to make that first impression and get that all-important clickthrough.
4. 51% of all website traffic comes from organic search, 10% from paid search, 5% for social, and 34% from all other sources. (BrightEdge)
Organic search traffic is what SEO is all about. The process of ensuring a website can be found in search engines for the words and phrases relevant to the products or services you provide.
With 51% of all website traffic coming from organic search it is obviously an important source of traffic and visitors. Ensuring your website is optimised is essential to attract these potential customers.
Much of the 34% of 'other sources' also could be as a result of effective optimisation. Other sources include returning visitors who first found your site through organic search and have bookmarked it and connect as direct traffic.
We are all told how important social media is and it is but, in comparison with other activities, it contributes the least in terms of traffic.
Because it is 'free', relatively easy to do and takes little time to post on Facebook or Twitter many small businesses spend a disproportionate amount of time 'doing social' for very little return.
TakeAway
Regardless of what level you start, time should be taken to get the basics of SEO right. SEO is not an instant 'fix' but an ongoing process and takes a bit more time but will pay dividends in the long run.

Recent Facebook updates & algorithm changes and further development of its own 'paid' search platform further reduces its usefulness as a source of organic traffic.
5. Over 40% of revenue is captured by organic traffic (Brightedge).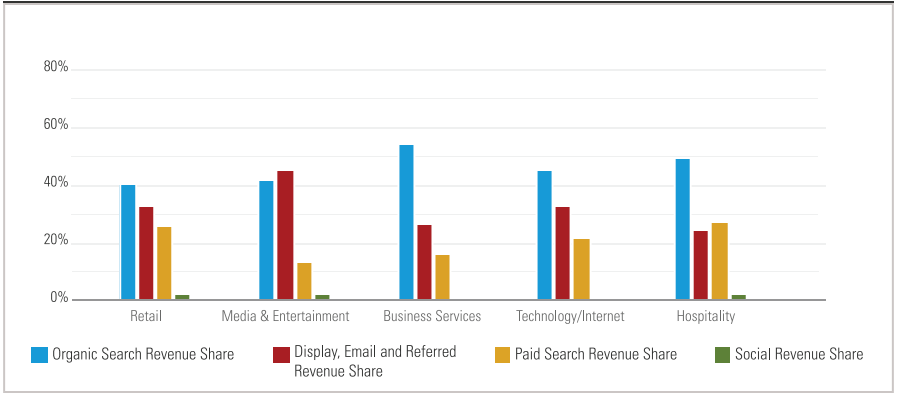 As you can see from the graph, 40% represents the lower level and relates to Retail specifically.
Apart from Media & Entertainment, it tops each industry with the Business category showing the highest revenues from its organic search activities.
Paid search should not be dismissed as together with organic it contributes, in the case of Retail, Technology & Hospitality, more than two-thirds of their overall revenue.
TakeAway
Across all categories organic search traffic contributes 40% or higher of revenues. As already highlighted organic search could be seen as only the frontline.

Returning customers, orginally found through organic search, over time when cultivated effectively often contribute even higher revenues.
6. 73 billion: The estimated number of phone calls that will be generated from mobile search alone by the end of 2018. (Acquisio)
You would have to be living on the moon or on a return journey from Mars not to realise the importance that mobile use is having on search.
According to official Google statements, more than 50 percent of search queries globally are now made on mobile devices. It's not clear whether it's 51% or closer to 60% but if the estimated number of calls is accurate the upward trend will continue.
TakeAway
The importance of having a responsive website and being mobile-friendly can't be overemphasised. For many businesses, their demographic may still be largely desktop but as mobile search continues to grow it will impact on rankings. 

With the announcing of the rollout of its mobile-first index in early 2018, Google eventually plans to have only one index. One which is based on mobile content serving both mobile and desktop users. The overall mobile experience will determine search ranking!
7. 8.5: The average number of organic mobile search results that Google shows on page 1. It previously consisted of 10 "blue links" in its search results.
8. 8.59: The average number of organic desktop search results that Google shows on page 1.
Both items 7 & 8 highlight the importance of having a strong SEO strategy in place. It is an increasingly competitive landscape with fewer slots available before being bumped onto page 2 of results or worse.
Over the last few years, the number of organic search results Google shows on each page has been cut from the original 10 with the average now around 8.5.
TakeAway
That space is now taken up by Adwords ads, local 3-pack, product carousels and various other options relevant to the search query eg whether a question or product search.

To maintain the same level of visibility companies will either need to invest in paid advertising (Adwords) or invest more in their SEO strategies.
The main takeaway from the above is: if you are not appearing on page one of search results, you need to start and develop an SEO strategy today. At least 8 of your competitors are reaping the benefits of appearing above you on page one.
SEO is not easy but it's not difficult either! It just takes time to implement and get the basics right. You can do it yourself or employ an agency/consultant to help.
You can download our DIY-SEO guide or contact us below.
Get Your Website Working!
Whether you need a new website, a redesign to freshen things up, or find and convert new and existing visitors into paying customers.
Webmedia has been helping local businesses do just that for more than 15+ years.
For a website that works harder to generate more leads and sales? Simply complete the simple form.